Would you like to feel more optimistic and understanding about your life?
 Do you seek clarity and insight into problems or blocks on your path?
Are you interested to know more about yourself and /or another person?
Do you have questions about your business, life, job/work/career, wellness, love, relationships, sexuality, spirituality, recurring problems, etc.?
Would you like to know what the universe wants you to know at this time?
What to expect from a reading by Minerva?
All services and consultations are made up of three (3) parts:
1) They begin with or include a channeled message.
2) Castings and consultations then flow into the reading of which ever medium you have selected (if that applies).
3) They end with a summary and series of next steps for you to take for actualization, realization and optimum results for constructive, healing and/or effective forward motion on your life's path.
All are produced as audio recordings  (MP3 or MP4) and some also include photo images of your particular castings/spreads, and other images, if applicable (not necessarily videos).  This information will be given to you for your (repeated) review at your convenience.
Popular Casting Methods for Readings
Rune $76
Audio with your spreads images
Use this oracle for difficult or urgent situations-when you need to understand and know what is happening, the elements for the attitude to be taken regarding your situation and the consequences resulting from taking that attitude.  This process involves using three different rune spreads.
Bones $76
Audio with your spreads images
Why did the past happen?  What to do in the present?  What events will occur in the future? Ancient peoples from the Pacific, Africa, Babylon and Rome have used bones in castings for eons. Still used in urban and rural communities- let the bones pierce the veil on concerns and reveal actions and decisions to be taken which will drive your life forward.
I Ching $76
Audio with your spreads images
The I Ching changing lines system has been used for over 5000 years in China as a visual divination code which suggests solutions to problems and likely future outcomes.  Based upon the energies of the Yin and Yang, Minerva opens this systems door to answers for you.
Tarot $76
Audio with your spreads images

Dating back over 3000 years, Tarot's origins have been credited to ancient China, Korea, Iran, Egypt, Persia, India, Central America and even the lost civilization of Atlantis.  One thing is for certain this tool is one of the most popular for insights, guidance and inspiration and is used by many millions of people all over the world every day for all types of questions and concerns.
 Charms Petite $76
Audio with your spreads images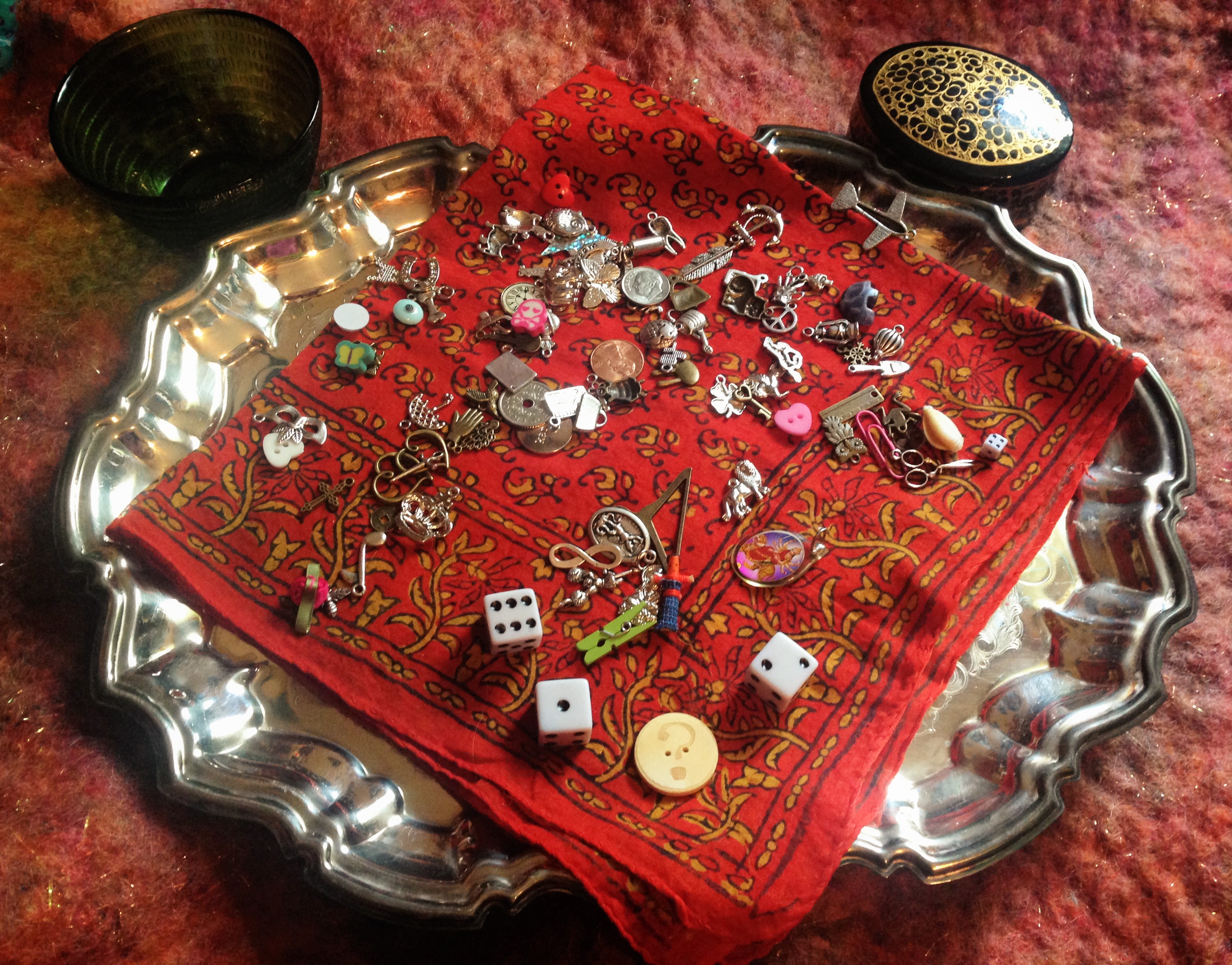 Have questions about your everyday life, home, work, relationships of any kind, past-present-future?  A lovingly and thoughtfully developed collection of small, precious metal, heirloom, and gemstone charms can tell you what you want to know.
 Charms Grande $76
Audio with your spreads images
Is your goal self transformation?  Do you need new ways of thinking about yourself and life?  Do you have questions about your personal or spiritual growth, challenges, or blocks?   Minervas' large heirloom, international or Native American charms can help you by  revealing that which is obscured and hidden in your psyche/unconscious mind.  Charms Grande is a tool useful for personal empowerment, personal development, and personal growth.
 Lenormand  $76
Audio with your spreads images
Used by Kings and Queens, and most famously by Napoleon, the Lenormand system, named after a legendary 19th Century French psychic,  can provide you with warnings, advice and insights for your questions, concerns and destiny.
 TMWINTK $160
Audio with your spreads images
Are you ready to let Spirit tell you what you need to know?  No particular question or concern? Curious to know what the universal life force needs you to be aware of  now? TMWINTK ("Tell me what I need to know") is an inquiry used to get insight into what you need to be thinking about, correcting, etc., in your life, mind, heart.  Use this reading to get clued you in on what the higher power wants for you.  Various methods are used according to guidance Minerva receives. If you are frustrated with trying to figure things out for yourself, or just are not sure what to ask about, then just relax and let this reading reveal the answers you might not even realize you need.
 Full Spectrum $340
Audio with your spreads images


The Full Spectrum reading takes hours to produce for you.  The worthwhile result is you get to go deep. This approach uses Minerva's carefully crafted recipe for discerning self awareness, life direction and path to spiritual growth. You will also find out which animal archetypes, herbs, musical tones, gemstones and more, can be used to help you more easily affect and achieve ongoing transformation and stimulate inner growth.  Nothing trumps mastery of your own personal power!
© Copyright 2017 – All Rights Reserved.